After browsing the shops in Haight-Ashbury and a quick swing by the Grateful Dead house, we took an Uber over to the Mission.
I vaguely remember going to the Mission as a kid. Market displays of fruit and vegetables outside, Spanish being spoken everywhere, Latin music blaring, it all brought back memories of running around the city with my mom and sister and cousin.
We left the Haight around lunchtime, and while Andrea and I weren't starving, we decided to fuel up at El Salvador Restaurant. We joked that this place had to be authentic since it was literally named after our tiny homeland country. I'd done a little online research on restaurants to visit, but being good Salvadorenas, we refused to pass up a chance to eat pupusas (El Salvador's national dish).
As a light skinned Latina, I'm very used to people assuming I don't speak Spanish and asking me "what" I am. So when the server welcomed us into the restaurant with a Buenas tardes, I lit up. It was incredibly refreshing to speak Spanish again. We ordered our pupusas and horchata and patiently waited for our food to come.
There was a little wait for our food, but honestly, most good pupuserias take a while. To me, it's a sign that my food is prepared fresh and I'll gladly wait the 20 minutes for amazing food.
And let me tell you, these pupusas did not disappoint. I don't want to hype them up too much, but they were some of the best – if not the best – pupusas I've ever had. The maza (tortilla dough) had a touch of sweetness that complimented the savory chicharron, bean, and melted cheese filling. It was outstanding. Andrea and I kept looking at each other in disbelief of just how delicious everything was.
I seriously thought twice about writing about this little restaurant because I wanted to keep it a secret, but it's too good not to share. If you've never had pupusas and find yourself in San Francisco's Mission District, check out El Salvador Restaurant. Find them at 2278 Mission St.
It's simple food done well, which is all I ask for from a restaurant.
With our hearts and stomachs full, we headed over to Clarion Alley to see some of the Mission's mural art. Years of watching TV have given me a weird apprehension about alleys, but I sucked it up and walked down it anyway. This was my first time checking out the murals and I really enjoyed it. There were lots of people, some even on a walking tour, checking out the art.
The piece that struck me the most was Mel Waters' beautiful spray paint portrait of Prince. I nearly flipped when I saw it. It was simple but so, so stunning.
All the art had me jonesing for some San Francisco coffee, so we walked down to Sightglass Coffee. It was a solid 20 minute walk from where we were but it was totally worth the trip. The shop is in a very quiet part of the neighborhood (at least it was quiet on the sunny Friday afternoon when I was there) and near some cool-looking restaurants.
I brought a mason jar with me to avoid using disposable coffee cups but totally chickened out about it at Flywheel that morning. #ithappens
Anyway, I took the L on that one, but decided I would muster up the courage to ask for my coffee in my jar at Sightglass. Of course they were cool with it. I've literally never had anyone give me the side eye over bringing my own mug/cup/jar before. I don't know why I talk myself out of it, but it's something that I'm working on.
The coffee shop has high ceilings and big windows. The baristas were friendly and the coffee was great. We sat outside for a while to soak up the San Francisco sunshine before heading back to Mission Street.
Our next stop was a shop called Little Paper Planes and it was completely adorable. It was a really cool space with jewelry, books, art, and fun office/home décor.
We unexpectedly walked past the Women's Building and had to stop to gaze at the gorgeous mural.
We realized we were pretty close to Bi-Rite Creamery, which I've seen about a thousand times on Instagram. Andrea and I decided to walk over there to see just how long the line would be. The internet did not lie to us this time, the line went to the corner of the block. When we saw how long we'd have to wait for ice cream, we decided we'd rather go enjoy pastries at Tartine Bakery, which was already on our list of places to visit.
We passed by a Bi-Rite Market on our walk to Tartine Bakery and the silver solar eucalyptus caught my eye. I was smitten with how green and beautiful it was and scooped up a big bunch of it for $10 (!!)
And then proceeded to have a mini-photoshoot with it because #love
Tartine was also packed, but the line moved quickly. We oohed and aahed at the pastries in the display case but ultimately continued our trend of ordering the same thing and settled on the tres leches cake. We posted up at the tables outside, watching people walk by as the light changed.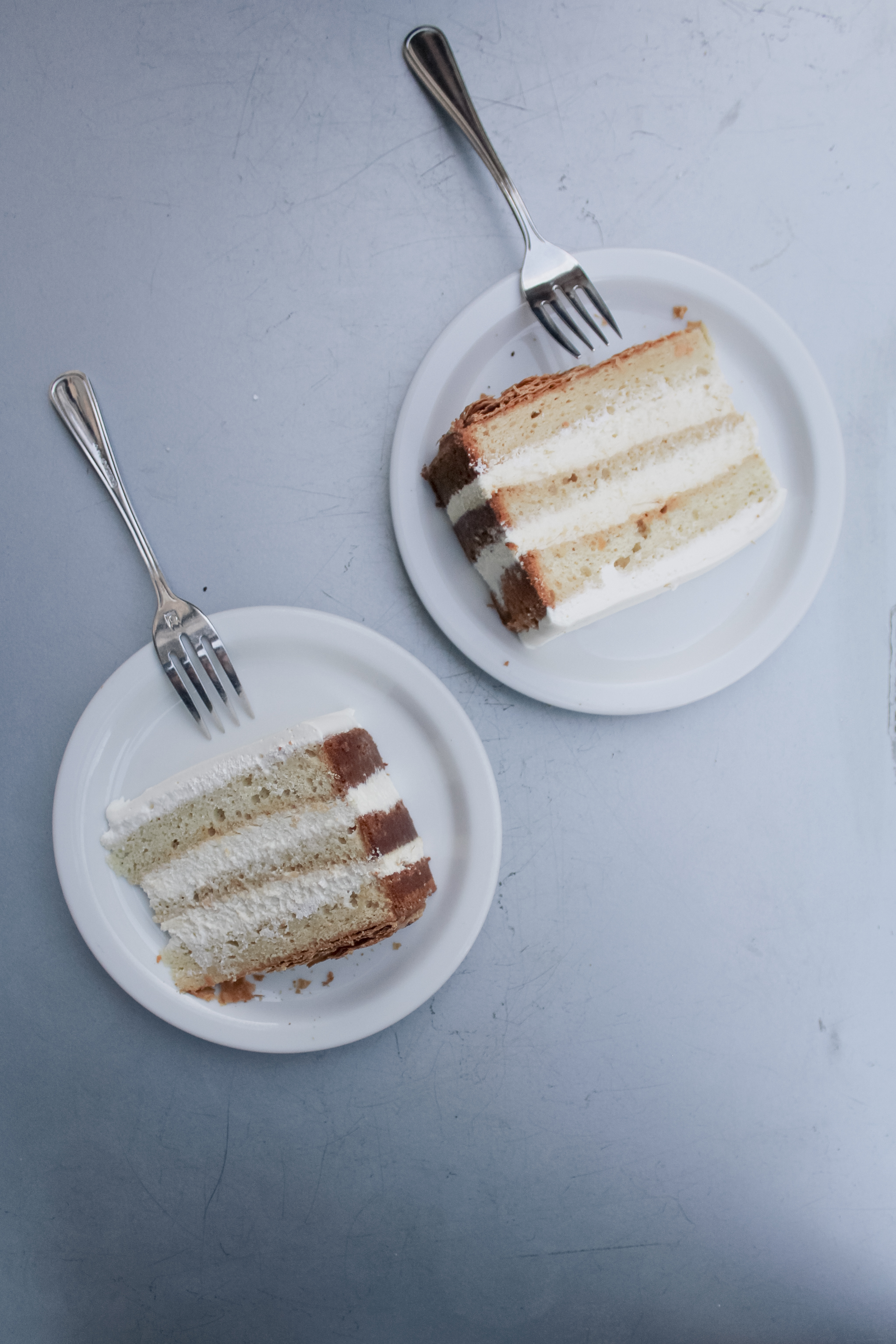 We promised our mom we'd bring her back a San Francisco burrito, but when we reached La Taqueria, we found out it was a cash only place (something the internet forgot to mention). We turned right around and walked back to El Salvador Restaurant for a carry out order of pupusas.
We hopped on BART with pupusas and a bunch of eucalyptus in hand, and our day of food and art in San Francisco was over.
I can't wait to go back.
Have you been to the Mission District? What are your gems?
XO, Alex